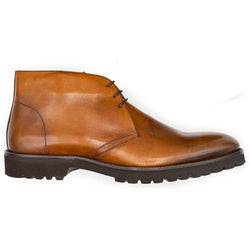 vendor-unknown
45-560-SCH MARCO Burnished Baby Calfskin Chukka Boot, Scotch
The Marco is created utilizing our Blake construction method. Favored for decades in Italy, Blake construction allows for maximum wear while still providing the comfort of a lighter, more flexible shoe. Shoes made using blake construction are easily resoled, extending the lifetime of the shoe.

These boots pair well with both jeans and slacks and can match a range of tops and jackets. For a more dressed up look, wear them with smart garment combinations like trousers, a white cotton shirt, and a blazer.

Give us a call - 817-737-9997 - to order by phone or back order a size that's
sold out.